On Saturday, 27th February, St Peter & St Paul's Church will be happily joining in with the national initiative to give thanks for the life of Captain Sir Tom Moore and one of our bell ringers will be tolling the tenor bell 100 times, at 12:00 noon.
THE CHURCH WILL BE OPEN ON SUNDAY FOR PRIVATE PRAYER 9AM-11AM, AND WEDNESDAY FROM 12:00-2PM. We find ourselves back in lockdown, and it is with a heavy heart I inform you that St Peter and St Paul's Parochial Church Council have agreed to suspend Sunday communal worship for now. We will continue to open the Church for private prayer as currently, and be available for funerals within the current guidance and very small weddings (in exceptional circumstances).
Starting on Sunday 24th January. Details of how to connect in the order of service you will need to participate (this was emailed or posted in  the week commencing 18th Jan to our contact list). Get in touch with Alison if you want to phone in or need the order of service.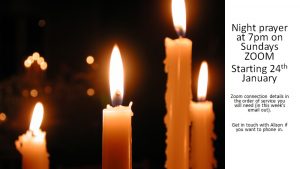 The Church is open for private prayer on Sundays between 9am and 11am and on Wednesdays between 12:00 and 2pm.  You are very welcome to come inside the church for private prayer and contemplation, safely distancing and wearing a face covering, during these times, following the Church and Government guidance and with a risk assessment in place – if you visit please adhere to this guidance for your own safety and the safety of others. Please do not feel in any way obliged to visit. We can always pray anywhere and everywhere. We will also continue to provide video and text resources for worship week by week as has become our custom via our website, emails and biweekly mailouts for those without internet.
From Sunday 24th January we will be hosting a weekly night prayer service on ZOOM at 7pm. If you would like to join in with this please get in touch with Rev Alison or Rachel. Rev Alison Way, our Rector, can be contacted on 01963 33151 or 07515 958988 or rector@nullwincantonparishchurch.co.uk.  Our Administrator, Rachel Feltham will continue to be working from home so please use email to contact her. Parish Administrator 's email: office@nullwincantonparishchurch.co.uk
"Love the Lord your God with all your heart and with all your soul and with all your strength… Love your neighbour as yourself. There is no commandment greater than these".
We take the safeguarding of children and vulnerable adults very seriously. Any concerns on these matters should be raised in the first instance with the Safeguarding Officer Janet Lowe , Tel: 01963 34965.
Also the Diocesan Safeguarding Adviser, Glenys Armstrong, glenys.armstrong@nullbathwells.anglican.org, Tel 01749 685135 is also available for help and advice.
If necessary please report the matter to Somerset County Council Social Services, tel 0300 123 2224. Alternatively if you have concerns about a child or young person you may contact Childline on 0800 1111. If there is immediate risk or danger please contact the police by dialling 999. There is more information here.  http://www.wincantonparishchurch.co.uk/?page_id=1274
Website:  www.wincantonparishchurch.co.uk
Office hours : suspended currently