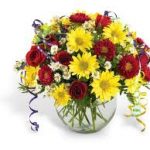 St Pater and St Paul's Church Wincanton
are holding a Flower Festival from July 13th – 15th in the church.
The theme this year will be 'Colours of Summer'
(this could be garden, beach, fete, picnic.)
If you wish to take part please can you contact the office on 01963 824503.
More details of times etc. will follow shortly.