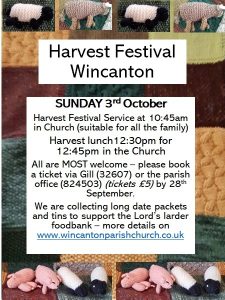 We are holding our harvest festival service at 10:45 on Sunday 3rd October this year, followed by a harvest lunch.
Tickets for the lunch are £5 from Gill on 32607 or the parish office on 824503. Please book ahead
We are collecting for the Lord's larder foodbank. There is a list of the things they most want to receive from us (all with a long use by or best before date please!)
Tinned Tuna, Meat Pies, Stewed Steak, Mince, Hot Dogs, Meatballs, Corned Beef, and Ham, Jars of Pasta Sauce, Teabags, Coffee, Breakfast Cereal, Cereal Bars, Porridge Oats, Meat Paste, Packets of Biscuits and Cream Crackers, Small and large bags of Sugar, Cartons Long Life UHT Milk, and Fruit Juice, Squash, Jars of Jams, Tins of Curry, Chilli Con Carne, Mixed Vegetables, Peas, Carrots, Potato, Sweetcorn, Ravioli, Beans and Sausages, and Spaghetti, Packets of Pasta and Sauce, Packets of Savoury Rice, Cous Cous, Noodles, Instant Potato, Cup a Soup, Tins of Fruit and Rice Pudding, Jelly, Instant Custard, Instant Whip.
Last year over 144,000 items of food were given out via 70 different agencies to help 8,200 local people from the Lord's larder, https://www.ycstyeovil.org.uk/the-lords-larder/.